Dynamics 365 Business Edition for SMBs
Dynamics 365 for The Business Owner
The Business Owner's Core Responsibilities usually include:
How to manage cash
Target and attract new customers
Maintain relationship with existing customers
Control expenses
Hire and retain good employees
Reduce time required to analyze sales and financials
Quickly resolve problems with payments from customers
In this demo for the Business Owner, we will show that user role how to:
Use KPI's to check the health of the business
Manage Cash inflows and outflows
Identify current trends and opportunities
Review Customer Payments and Receivables
UNLOCK MORE DYNAMICS 365 DEMOS
Make sure your future ERP Solution has the right features for you!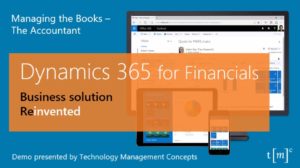 Dynamics 365
for the Accountant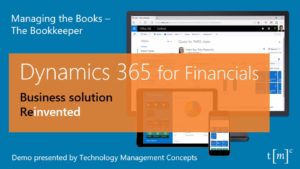 Dynamics 365
for the Bookkeeper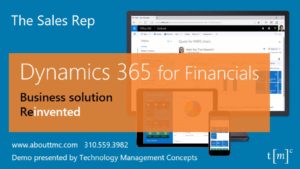 Dynamics 365
for the Sales Rep
Fill out the form below to Unlock all our Dynamics 365 Role-Based Videos. Those videos we will show you different demos tailored specifically for key members of an SMB organization. Some factors that drive the decision for a company to implement an ERP Solution or replace their existing accounting solution. 
Dynamics 365 workflows and productivity integration automate many of the critical tasks and process upon which a business depends upon. Thus providing greater control over how the staff works and greater freedom to leverage their time.